Lighting is about creating moods and emotions
Silvia the Lighting Designer
I grew up in a tiny little village perched above Lake Maggiore, a place with maybe thirty or forty inhabitants. And in the morning, I'd often go with my grandmother to the lavatoio – the communal wash house, which had one of those classic stone basins where the village women would gather to do the laundry, each one in her customary place.  It opened onto the street on one side and faced east, and I remember being captivated by how the early morning light reflected off the surface of the water. There was an amazing clarity to it.
Years later, after having established myself as a lighting designer – a role that is still rather undervalued in Italy – the De Santis family asked me to help perfect the lighting scheme of Villa Passalacqua. This is a project which I consider to be something of a career highlight so far. The lake setting took me back to those mornings with my nonna, but this was something very different from a communal wash house. It was grand, it was elegant, it lived and breathed history, and it gave me the chance to work extensively with 'noble' vintage lighting materials for the first time – materials like Murano glass.
It was a fascinating learning curve. In a Murano chandelier, the crystals reflect and refract light differently by day, when the chandelier is 'off', and by night, when it's illuminated. It's one thing charting the light distribution curve of a spotlight – try doing that with the five-metre-high chandelier in Sala Bellini. When we laid out the pieces before mounting it, they filled seven rooms!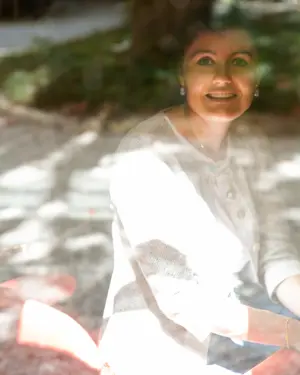 Whether an ambience is modern or classic, whether it's a house or a garden, the first step is always to respect the space, to listen to it. And here, working closely with the De Santis family, I very early on came to an important realization. Passalacqua is quite austere on the outside – but the interior is a joyful explosion of light and colour.
Lighting is not just about illuminating the darkness but also about creating moods and emotions. If you stand on the lake jetty and look back at Passalacqua, I hope you feel a sense of magic, and mystery, and romance. But getting that right was a real technical challenge. Look at the way the villa's window frames are illuminated – it's as if there's a candlelit party going on inside. Valentina and I worked for two years to achieve that asymmetrical effect. In the end, we had to get special lights designed as there was nothing suitable on the market.
The really interesting thing for me is that when I walked through the main door on the day the Villa reopened, it came naturally to me to say 'permesso'?' – just as you do when you enter someone's home. It may be a grand palazzo – but it feels like a family home.
"I remember being captivated by how the early morning light reflected off the surface of the water."