Authentic, seasonal, delicious. Those three words sum up Italian cuisine, and form Passalacqua's culinary credo. Showcasing the country's gastronomic prowess all the way from Sicily to the Alps, the restaurant at Passalacqua revives a golden era when each Lake Como villa had its own private chef.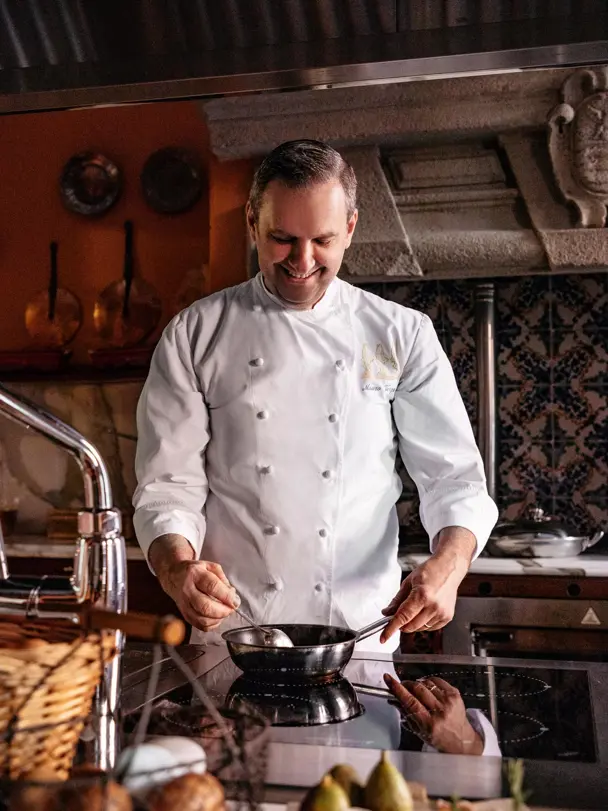 Having worked for some of Milan's leading families for over two decades, Mauro Verza is a true chef di casa. Trained to a high level of technical excellence, responsive to individual needs and preferences, he believes that simple, genuine dishes done to perfection are the true test of any chef's real worth.
One of the small joys of country house life – whether it's yours or a friend's – is wandering into the kitchen, helping yourself to a tempting snack, striking up a conversation, getting involved in the baking or the pasta making. That's what Passalacqua's open kitchen is there for. It's yours, to learn in and to linger in. Our elegant nook of a bar, which celebrates northern Italy's vibrant cocktail and aperitivo scene, is equally warm and welcoming.
Lake Como's waterside trattorias and hidden country osterias are well worth exploring. Closer to home, Moltrasio boasts one of the area's best artisanal gelaterias. Further afield lies the fascinating Valtellina enclave, with its rich wine culture and tempting regional specialities.