The Best Restaurants on Lake Como
Food is the love language of Italy. Our national pastime. And one of the highlights of a Lake Como vacation. If you are wondering where to eat on Lake Como, the sheer variety of dining options has something for everyone: Michelin-starred cuisine that celebrates long-standing tradition or creates new ones, cozy crotti serving local specialties and friendly neighborhood spots all about bringing people together around a well-laid table.
Join us on a journey of culinary exploration from one shore of the lake to the other and from hidden gems to bustling, buzzy hotspots – all on a quest for the best food on Lake Como.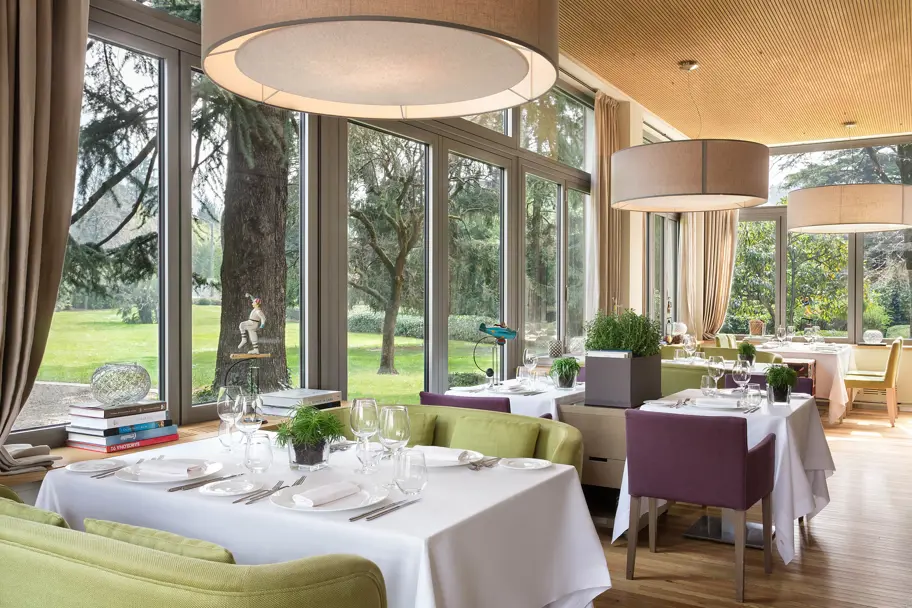 Kitchen
The best Michelin-starred restaurant on Lake Como for romance
Via per Cernobbio 41A, 22100 Como, Italy
Closed Mondays as well as Tuesday lunchtime
Nestled in a green oasis on the very edge of Como town, this romantic spot showcases the stylings of Chef Andrea Casali, who has assembled one of the youngest brigades in the business. Every dish on this playful menu delights the eyes before the palate. Every ingredient distilled to its very essence and curated with finesse. In line with Casali's respect for nature and its cycles, ingredients are local, seasonal and sustainable – some grown in his own biodynamic garden (a great spot for pre-dinner drinks!). The tasting menus and a la carte dishes, with some of the best food on Lake Como, cater for both omnivores and vegetarians; the wine list contains multitudes.
Don't miss dish
Bottoni di Parmigiano Reggiano: pasta "buttons" filled with melt-in-your-mouth parmesan and garnished with nashi pear gel, foie gras mousse and balsamic pearls.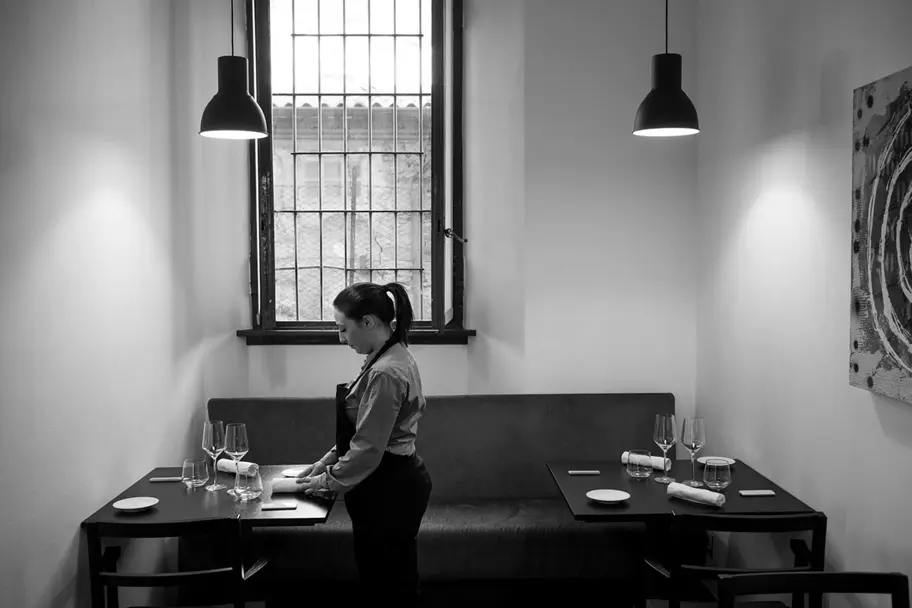 Materia
The best Michelin-starred restaurant on Lake Como for intrepid food lovers
Via Cinque Giornate 32, 22012 Cernobbio
Closed Monday and Tuesday
One of Lake Como's top restaurants, Materia is the brainchild of Davide Caranchini. His passion for cooking took this Como native to Paris, London and finally the Nordic cuisine mecca of Noma. He returned to Cernobbio keen to elevate the food of his homeland with all he learned, opening Materia and its sanctuary-like greenhouse. The minimal décor and tableware allow his daring dishes to shine in all their fermented, smoked, moussed and pulverized glory. The a la carte and 5, 7 or 12-course tasting menus – including the "Green Power" for vegetarians – are amazingly affordable, even when paired with sommelier Luca's selection of (mostly natural) wines.
Don't miss dish
Banksy: smoked yogurt stenciled as The Flower Thrower on a white oblong plate with a side of hay cream and chamomile gelato to be mixed and eaten with the hands.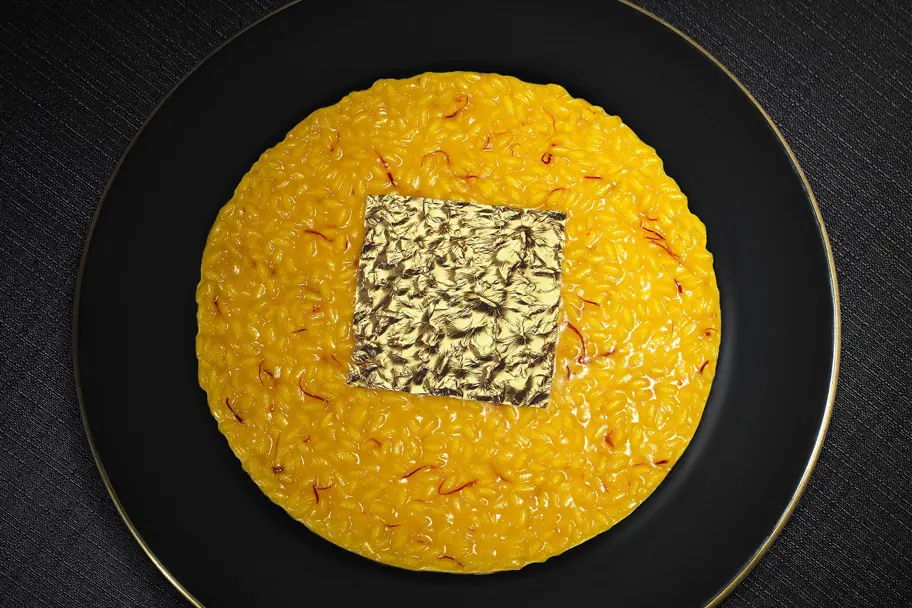 La Terrazza Gualtiero Marchesi
The best restaurant on Lake Como with a view
Grand Hotel Tremezzo, Via Regina 8, 22016 Tremezzina
Open daily for dinner
Located at our sister property Grand Hotel Tremezzo, La Terrazza boasts some of the best food on Lake Como and one of its most beguiling views. The menu is the only one in the world created to honor Gualtiero Marchesi, undisputed Grand Master of Italian cuisine and a true pioneer in form as well as flavor. Chef Osvaldo Presazzi proudly carries on his erstwhile mentor's tradition, delivering modernist classics that are works of art on the plate. Along with a tasting menu and a tempting a la carte assortment, vegetarians have several alternatives; the wine list is a tome with local, foreign and even kosher varietals.
Don't miss dish
Riso, oro e zafferano: a decadent saffron risotto served on a gold-rimmed plate designed by Marchesi himself and garnished with a perfect square of gold leaf.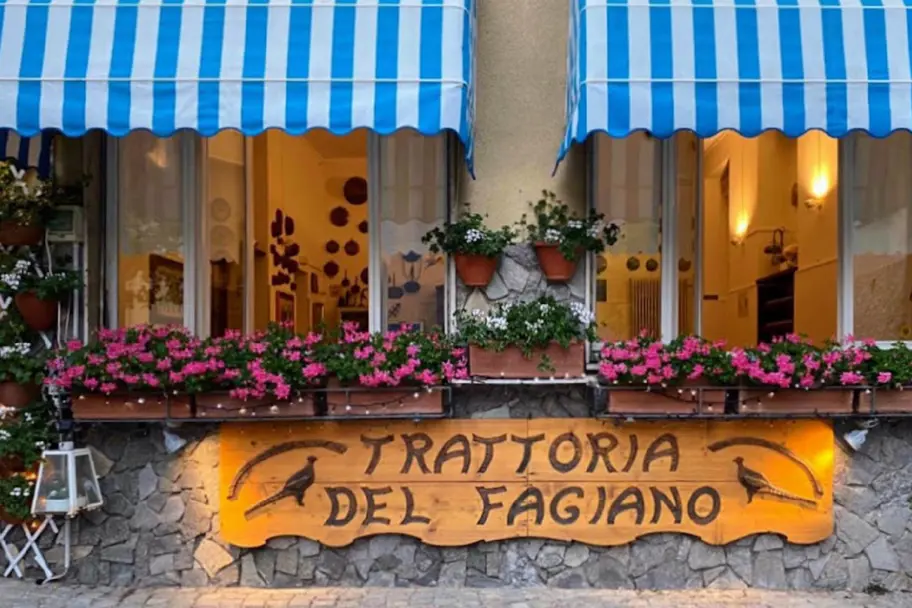 Trattoria Del Fagiano
One of the best restaurants on Lake Como for traditional fare
Via Roma 54, 22010 Moltrasio
Open for lunch on Sunday; closed Tuesday
Situated on the main square of our own village of Moltrasio, Trattoria Del Fagiano is one of those rare Lake Como restaurants that serves classic dishes just like Mamma used to make. A collection of old copper pots on the wall, well-trod terracotta tiles underfoot, and the warm welcome from the Donegana family give this trattoria an old-world feel. And with such healthy portions of delicious Italian comfort food, you are guaranteed never to leave hungry. Don't miss the terrace tables during the summer months for an al fresco treat!
Don't miss dish
Strozzapreti al ragù di fagiano: hand-rolled pasta twists in a sauce packed with local pheasant
Dispensa 63
The best off-the-beaten-track restaurant on Lake Como
Salita Cavour 15, 22021 Bellagio
Open Thursday-Sunday for lunch, Tuesday-Saturday for dinner
The menu is short and sweet; there are only about 20 covers (half at a well-weathered communal table); and a tight-knight trio runs the entire operation. The only big thing about Dispensa 63 is the number of cobbled steps it takes to reach this hidden gem on a Bellagio side street (63 to be exact!). Baba and Martina have put their heritage, talent and travels into the décor and the inventive dishes that change with the seasons. With so many restaurants in Bellagio Lake Como to choose from, this one never fails to delight!
Don't miss dish
Any of the homemade pasta, like tagliolini with shrimp or rabbit in white sauce on fettuccine.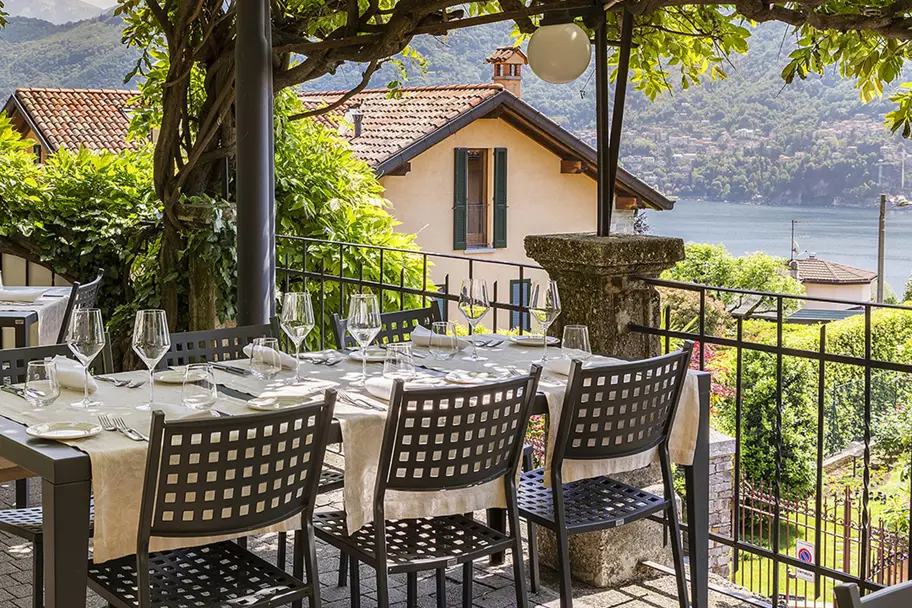 Trattoria del Glicine
The "best-things-come-in-small-packages" restaurant on Lake Como
Via Vittorio Veneto 1, 22012 Cernobbio
Open daily for dinner, Friday-Sunday for lunch
A pleasant drive into the hills above Cernobbio, Trattoria del Glicine is housed in a stately 19th century residence and one of the best restaurants on Lake Como with a view. The dark wood and retro knick-knacks give the restaurant a decidedly vintage feel, just like its classic Italian dishes from eggplant parmesan to tiramisu and Sicilian caponata to local game. Owner, chef and sommelier Mario Pozzi prides himself on a very warm welcome; the dining room (with an open fire!) and the lake-view terrace under 120-year-old wisteria vines are equally charming. Guests will love the great vegetarian and gluten-free options as well as the surprises on the wine list – Mario's recommendations are gold!
Don't miss dish
Pacchero con sugo di polpo alla Gabriele: large hollow tube-shaped pasta served with a sumptuous octopus sauce.