The Best Lake Como Views
In The Charterhouse of Parma, Stendhal positively gushes about Lake Como: "Everything here nobly, exquisitely speaks of love." But there was always more to a lovely landscape than just a pretty face for the 19th century author.
A dappled green slope, a distant church bell, a snow-covered peak "seem to say to us: life is fleeting, don't resist happiness when life sends it your way […] hurry up and enjoy it." Isn't that we all dream of when we travel?
To leave the real world behind and focus more on "being" rather than "doing", replacing the daily grind with dolce far niente. The Lario is tailor-made for just such sweet idleness, why not look for inspiration in Lake Como's best views!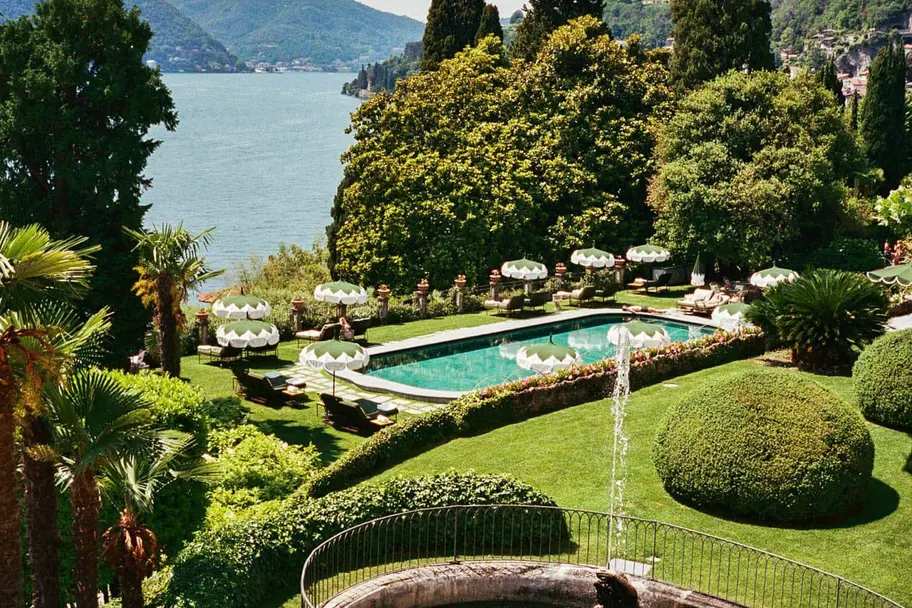 Spoiled for choice!
Best Lake Como view from Passalacqua
When it comes to Lake Como views, Passalacqua offers guests a real smorgasbord. What's your pleasure? Maybe from the cocktail terrace enjoying a Bellini or under the striped canopies of our dining terrace? You might prefer to glimpse the glittering lake between the magnolias during a yoga class, or framed by sumptuous drapes in our rooms & suites. Or relax instead on a Casa al Lago terrace with the lake so close you can almost reach out and touch it. The choice is yours!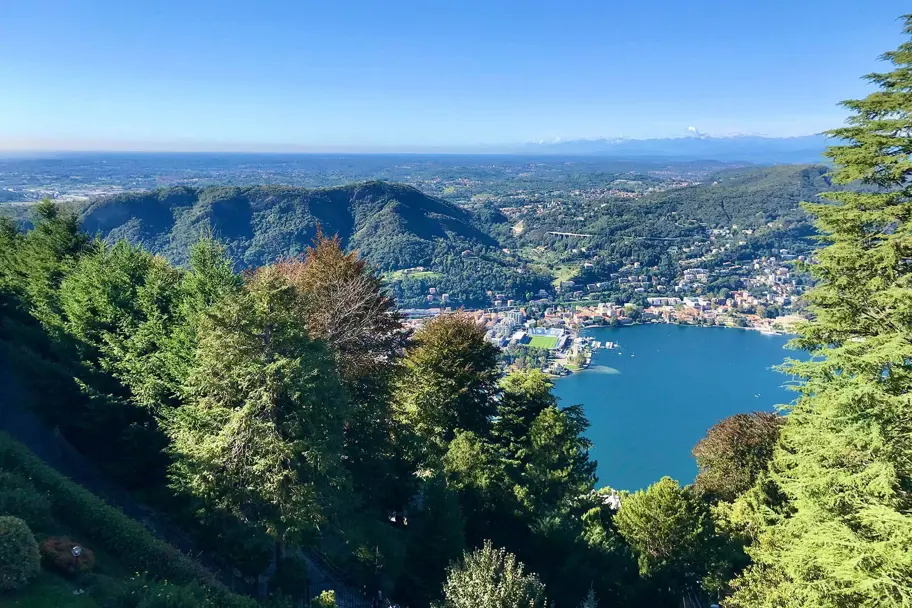 Brunate: The Balcony of the Alps
Best Lake Como view from above
The funicular railway just outside Como's charming old town is like traveling in time to the late 1800s. It was originally built to bring wealthy industrialists from Milan to their summer homes in the popular resort town of Brunate. The original cable railway still climbs 2300 feet above sea level in just seven minutes today, where Liberty-style villas with murals and wrought iron railings compete for your attention with the panorama. There are many ways to enjoy incredible Lake Como views from Brunate, whether it is a quick walk to the lookout point or a 40-minute hike to the Faro Voltiano. This almost 100-foot-high lighthouse was built to commemorate the 100th birthday of Como's favorite son, scientist Alessandro Volta (you can admire the panorama from the top after climbing an additional 123 steps!).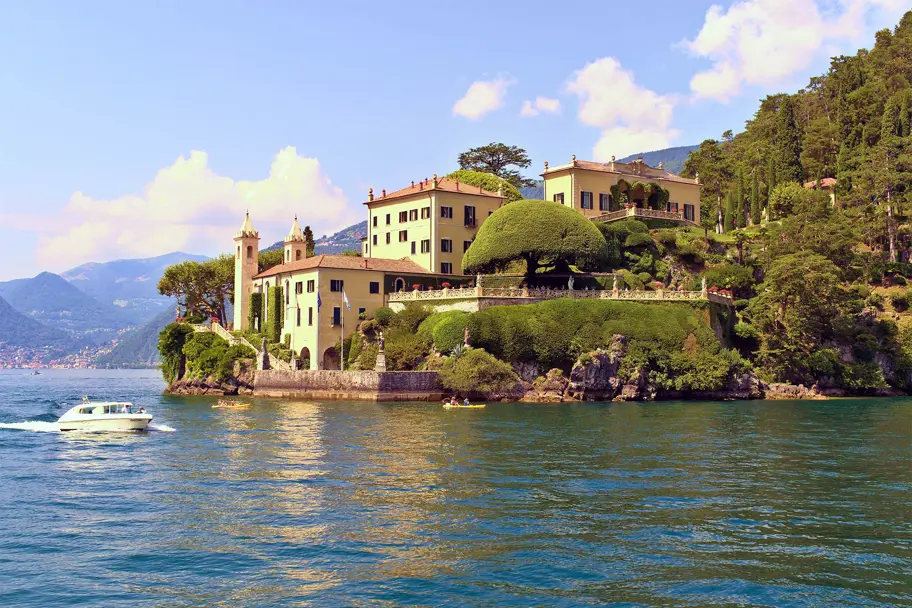 Villa del Balbianello
Best Lake Como view from the water
It is no secret that we love messing about on the water at Passalacqua (see our top boating tips here!). Of all the Lake Como views, nothing quite compares to cruising past Villa del Balbianello on the Lavedo Peninsula for the first time. From the water, its stately towers, vine covered façade and manicured trees are like something out of a fairytale – or a Hollywood movie (just ask Anakin Skywalker!). Arriving by our motor launch at the candy-striped poles and making your way up the stone stairs into this magical garden is something you have to experience to believe. Second only to the view of Villa del Balbianello from the water are the views of Lake Como from its arched loggia, where a single, centuries-old white fig vine snakes its way up and around the columns and frames the postcard-perfect panorama.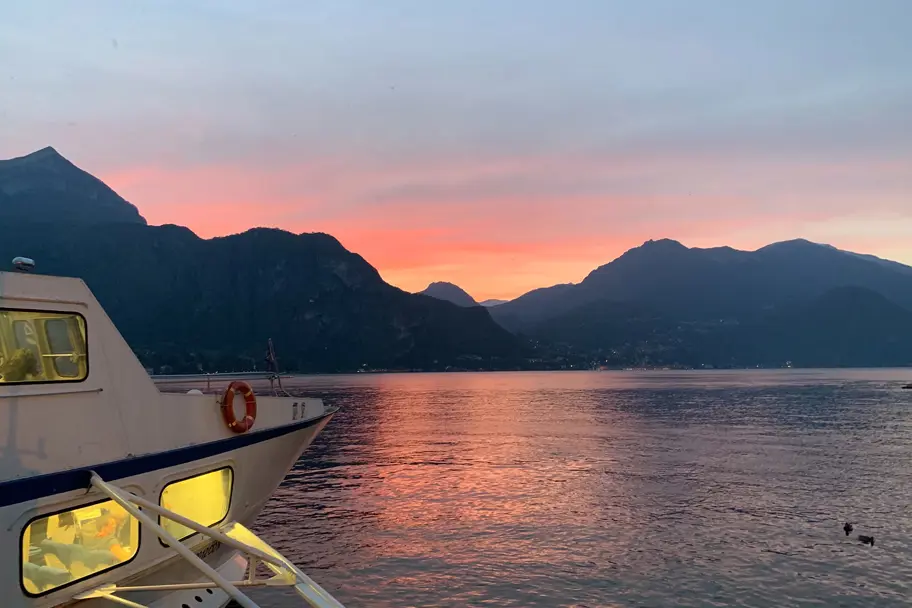 Boat ride to Blevio
Best Lake Como views at sunset
Let's be honest: Practically every Lake Como view is amazing in the Golden Hour. For something extra special, however, might we suggest a Lake Como Sunset Cruise? Fitted out with a camera phone and a bottle of our favorite Franciacorta, a trip with our motor launch is the best way to experience the Lake Como sunset. There is a spot just off the shore of Blevio across the lake, where – for those in the know! – you can watch the sun go down right between the mountains to the west. Rely on our captain to find the perfect place for you to enjoy every last drop of sunlight and toast to another glorious day in paradise.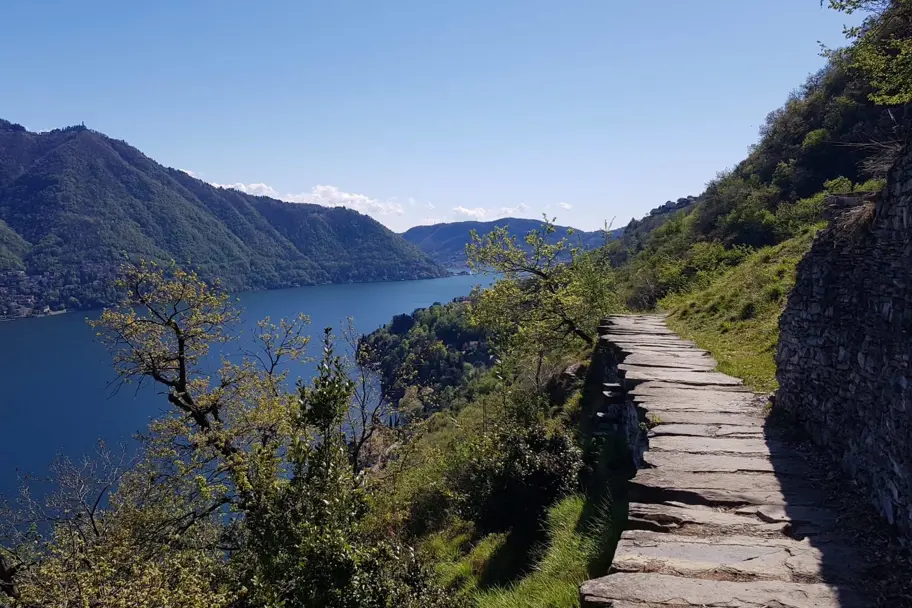 Sentee di Sort'
Best Lake Como view to celebrate nostalgia
As well as a centuries-old playground of the rich and famous, Lake Como has a long history of farmers toiling on steep terraces, millers harnessing the power of our rivers and streams and miners digging deep for the prized Pietra Moltrasina. The path connecting Moltrasio with Cernobbio called Sentee di Sort' follows in the footsteps of our forefathers, showing prime specimens of our sturdy local stone in rustic buildings, paved paths and dry-stacked "muri a secco" walls. You'll enjoy weaving in and out of mature woodland, passing ancient settlements and abandoned quarries on the Sentee – with the awe-inspiring Lake Como views as your constant companion. Nostalgia and knock-out views: a perfect combination!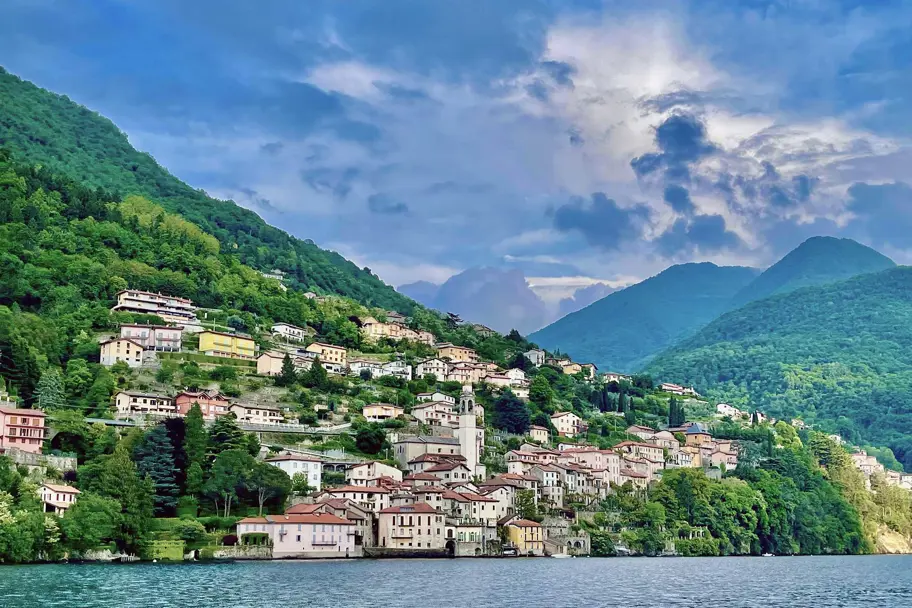 Trattoria del Porto
One of the best Lake Como restaurants with a view
Even though Lake Como has many amazing restaurants to choose from (find some of our favorites here!), we are partial to the lovely views at Trattoria del Porto in Nesso, both en route and in situ. Fans have long immortalized the quaint Romanesque bridge in Nesso on the canvas and on Instagram, which you can see for yourself if you arrive by motor launch, but it's the views from the Trattoria's covered terrace that makes this place so special. From the moment you pass through the jasmine-covered entrance, the decades-long owners from the Zambra family make everyone feel welcome. No need to choose from countless a la carte options – just sit back, enjoy the reasonably priced prix fixe menu, which is heavy on fresh-caught lake fish (vegetarian alternatives available!), and watch the Lake Como world go by.